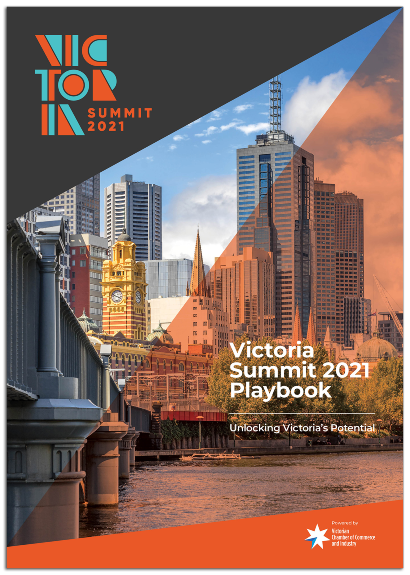 Victoria
Summit 2021
Playbook
Unlocking Victoria's Potential
The Victoria Summit 2021 was a unique opportunity for thought leaders from industry, unions, governments, the community and educational institutions to work together to create a shared, bold, compelling and aspirational vision for Victoria and a path for our state's economic recovery and long-term prosperity.
Powered by the Victorian Chamber, the Victoria Summit 2021 focused on exploring three fundamental questions:
What is the vision for Victoria in 10, 20 and 30 years, richly described and aspirational but achievable?
What are the pathways to securing this vision?
What actions are needed to ensure Victoria is on the path to developing and realising this vision?
More than 700 ideas from the Summit process have been captured in the Victoria Summit 2021 Playbook. The Playbook identifies 10 pillars, 46 pathways and 189 actions that guide the bold activity required to achieve the vision – Victoria is the best place to live, learn, work and operate a business by 2050.
Explore the Playbook to identify how you can help unlock the potential of Victoria. The future is in our hands.
Watch Video
Victoria Summit 2021 Playbook